As more construction firms implement AI into their processes, AI becomes more and more prevalent in the sector. Here are 10 ways that artificial intelligence is transforming the construction industry. Machine Learning and Robotics in Construction. Currently, construction companies rely on their technicians to make assessments of construction sites. Not only can technicians be expensive and hard to replace, but their work can easily be threatened by unexpected weather or physical obstacles. However, companies like Toyota are working on a technology that can be used on construction sites to predict the performance of materials, robots, and construction equipment before they ever leave the factory.
What is Artificial Intelligence?
The term Artificial Intelligence, or AI, is a branch of computer science that deals with the creation of intelligent machines. The traditional definition of AI refers to intelligent agents that can carry out tasks independently. This definition is interesting since the original purpose of AI was to program computers so that they could function like intelligent human beings. With AI software, computers can be better than humans at specific tasks, such as playing chess or driving cars. At IBM, researchers are focusing on turning computers into more powerful intelligent agents that can learn, think, adapt, and act more like real human beings.
The Potential Applications of AI in Construction
Jobsite monitoring
Improved productivity
Better data management
No more long walks and stressful worksites
Improved safety
Better and quicker delivery of services
3D reconstruction
When it comes to the potential application of AI in construction, the possibilities are endless. It can act as a smart assistant that never tires and rarely makes mistakes. The integration of AIs into an intelligent working environment is a potential game-changer. This will enable the workforce to work efficiently, reduce downtime, reduce the probability of errors, and bring down costs in the long run.
Building Better Designs with Generative Designing
With generative design, 3D design software creates the features, forms and textures that meet the goals of the designer, not the need to produce a finished product. Typically, this approach creates products that are more versatile and better able to adapt to changing situations. Simplify Project Management, Optimize Design Through Coding, Easily Mix and Match and Have Customizable Solutions, Easily Test New Designs, Upgrade Systems Build Faster using the Best Infrastructure, Remove Repetitive Tasks from the Basket, Create Highly Customizable Architectural Design, Improved Construction Results, A.I. as a Backup Project Manager. Project Management has been the number one challenge for the construction industry. However, AI can take over and act as a project manager.
Efficient Project Planning
When a project has a fair set of design, specifications, and requirements, the project managers can produce a detailed schedule and project progress report. With just a little creativity and basic number crunching, managers can easily schedule the job and manage project costs with the assistance of Generative Design. This is the type of AI that generates novel designs based on data and informs us of trends. This solution can drastically reduce the potential for project overruns. AI can schedule the job, and therefore the project, with high accuracy and perfection. In addition, with its ability to analyse large amounts of data, it can also predict the top 20 tasks that are frequently repeated in any project.
Building design and planning
The two major challenges that face today's construction industry are time and budgets. You could almost set up an automatic scheduler for a project that will be designed and built as planned without any major issues and without creating any additional disturbance to the construction schedule. The ability to use and integrate AI into these new smart scheduling and design tools can further enhance their effectiveness by using data as well as traffic.
Accessible Data- The most desirable feature of today's construction firms is the ability to collect and manage all kinds of data with minimal oversight. Such companies possess the required tools and technologies not only to collect and present the data for analysis but also to generate new insights and knowledge through the use of relevant tools.
Predict and Prevent Cost Overruns
Inspection – The inspection activities are equally essential to any construction project, whether large or small. Therefore, it's critical for any construction project to work with an effective tool to keep track of the conditions and performances. Robotic Innovations In Construction Industry,Augmenting Worker Efficiency with IoT Cutting Down Time and Constraints with Smart Robots Maintaining, Repairing and Maintaining Facilities
For example, the construction of The Unisphere and One World Trade Center skyscraper was awarded a US $172,530 contract to use its BIM360 robots. These robots will be put to use in the erection of scaffoldings and platforms. The three robot systems will be constructed by Salto Robotics. How do these robots work?
Using AI in Construction is an intriguing proposition, however, on the other hand, there are many challenges, which are almost insurmountable. Even though these challenges will no doubt hinder the mass application of AI in the construction industry, there are certainly a few aspects which make it a significant contender. The Human Factor People have a natural instinct to spot a fake. The problem with AI is that it can never be perfect; it's a tool that needs to be used with this in mind. Its users need to be humans, too, otherwise, it will not be effective. Some of the information that AI needs to generate is not only specific to the given construction site, but also region.
Increase Productivity of the Jobsite
Controlling Costs and Improving Cashflow Remote Data Access and Communication Safety and Security in the Workplace Project Management Modifying Design to Make Spaces Fit Environmental Impact Assessment Project Management Security Leasing and Ownership Installing AI into Projects is Easy! AI is already starting to improve construction projects, and if you're a developer, you can make use of AI technology.
By choosing the right software, it's easier than ever to predict the way AI will improve your construction projects. Renovate for higher return If you're renovating a building, you want to make it a profit, and one of the ways to increase the value of the property is to renovate the bathrooms.
Reducing risk in the workplace In general, it is the construction industry which has the biggest exposure to artificial intelligence, as there is potential in every aspect of construction: new project design, materials sourcing, estimating, inspection, research and development, work scheduling, and so on. As more and more jobs in the industry are becoming automated and less and less human, machine learning and AI can play an important role in the future of the construction industry.
Make Construction Sites Safer
Improve Quality of Construction Reduce Maintenance Costs Protect Environment Needed for 3D Simulation and Design Natural Language Processing for Construction Video Analytic Reconstruction with Deep Learning Online and Mobile Applications AI developers can use a range of machine learning techniques, including deep learning, to get the best result with their AI-based application.
Artificial intelligence might be useful when construction is concerned, but that's not the only industry that could benefit from this technology. Considering the diversity of uses this field can have, the possibilities are endless, which is why it is vital for the industry to keep abreast with the latest developments.
Boom Metric, an innovative project management system with intelligent tools and solutions for the construction industry, has recently collaborated with the Agency for Quality Assurance in Israel (AQSIQ) to implement the new construction safety software – Boom Metric 3D Production Production Solution. Developed by Boom Metric, the solution was launched at the recent Global Construction Safety Summit in Tel Aviv.
According to Peter Lynn, Chief Operations Officer of Boom Metric, this solution will make the world's construction industry a safer place for employees and the public. Using the Boom Metric 3D Production Production Solution, everything can be made in 3D, including blueprints, specifications, photos, and 3D models.
The future of the construction industry
What impact will these advancements have on construction workers and their overall outlook? Not a great deal, to be fair. There may be some degree of compensation or re-training in the short term. But overall, this disruption isn't going to displace construction workers anytime soon. Most will need to acquire new skills in order to be flexible enough to operate in a digital world.
Consider that according to PwC, 80% of professionals believe AI will allow them to deliver higher-quality work. For this reason, PwC predicts that AI will enable "a long-overdue shift in the technology burden that weighs on commercial organizations." What About Healthcare? Let's say that AI-powered robots in hospitals perform ten times better than human doctors in diagnosing diseases.
AI and Construction
For the upcoming era of construction, AI promises to revolutionize the way construction firms operate, as well as the way building and infrastructure projects are managed. This comes at a time when the construction sector faces significant economic challenges like congestion, slow demand and skilled labor shortages. The global construction industry is witnessing unprecedented growth.
According to the International Building Technology Investment Feasibility Study, construction spending growth in Europe will grow at a compound annual rate of 6.5 percent between 2017 and 2021. However, labour scarcity and labour cost instability will likely restrict investment in the construction sector.
Why AI is needed in Construction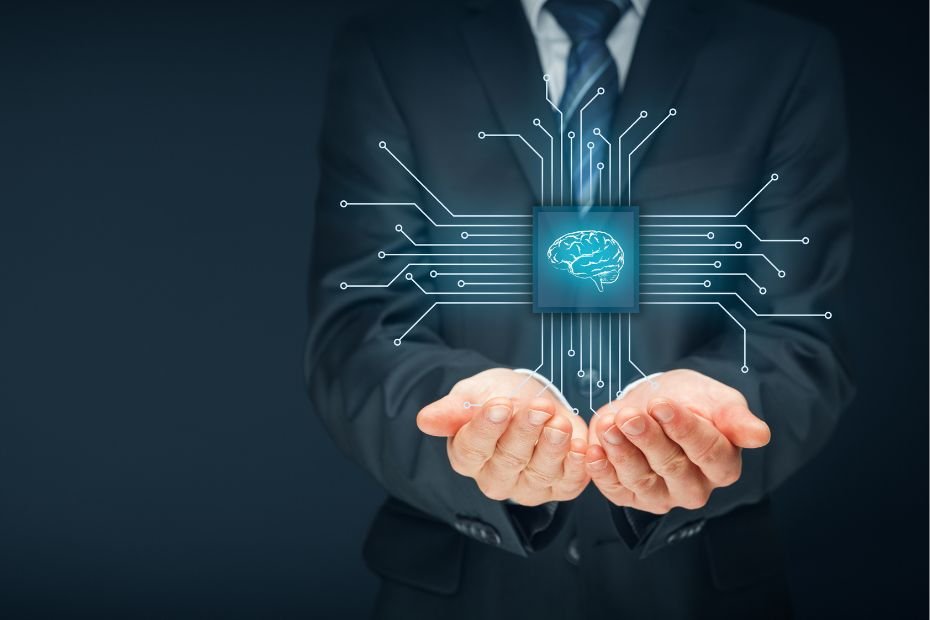 There are many reasons why the construction sector needs to adopt the use of artificial intelligence. Increasing awareness of the benefits of this technology– A recent study by Strategy Analytics finds that the construction industry should expect a 25 percent annual growth in spending on AI in the next five years. And within that, a massive 20 percent growth in spending on AI in construction should be expected.
There's the research sector, which is expected to be a major player in AI over the next couple of years, and the smart home and intelligent security sectors, but there are several reasons why the construction industry is in line for a big piece of the pie. Technology is already changing the way the industry works, especially the reliance on statistics.
How Artificial Intelligence Is Transforming the Construction Sector
A Farsighted View of the Future When it comes to the potential application of AI in construction, the possibilities are endless. It can act as a smart assistant that never tires and rarely makes mistakes. You can also create augmented reality illusions that reduce the complexity of the construction project and get your teams on the job site on time and on budget.
Traditionally, the construction industry has been very reactive and the strategy hasn't been to exploit the advantages of cloud computing or artificial intelligence. However, this is changing rapidly. Here are some of the ways artificial intelligence will transform the construction industry in the future.